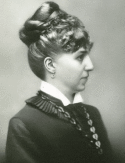 This blog post originally appeared as a guest post for Fresh Fiction on 12 May 2015.
When you think about the books you've loved over the years, usually the book's characters are the reason why. Setting, tone, plot, and themes all contribute to making a novel stand out, but I find that characters stick with the reader most. In a good book, characters come to life for us. They are fully realized beings we feel we know almost as well as any flesh and blood creature—they're not always people, after all—in our own lives. For me, it is almost always a book's characters that make me truly love it and remember it.
In my own book, Up the Hill to Home, every one of the main characters is an ancestor of mine. They were real people. Often, I've read diaries and letters that they wrote, and have heard many stories about them. Still, it was up to me as an author to breathe life into them and make them completely three-dimensional, and, I hope, memorable.
What are the traits that make a character memorable for you? Do you want your characters perfect or flawed? Larger-than-life or Everyman? Exotic or familiar? Let's explore the five traits that make characters memorable.
1. Characters You Love—or Love to Hate: Mysterious, scary, heroic, fascinating, aggravating, evil, charming, sexy: no matter the character you're looking for, the best ones get a visceral reaction from their audience. It doesn't even matter whether it's "I loved her!" or "Oh, I hated her!" Think of Gone, Girl. Author Gillian Flynn went for and achieved the "love to hate" reaction in her readers, who couldn't wait for friends to read the book so they could discuss their enthusiastic loathing of the characters without spoiling anything. The worst thing you can ever say about a character is not that you hated him but that you found him uninteresting.
2. Characters You Can Relate To: When a character is familiar to you, especially when she reminds you of a person you already know and love, you're primed to find that character memorable. Some of the most memorable are the ones who remind us of ourselves. I think many women identified with Bridget Jones, the hilariously flawed heroine of Helen Fielding's Bridget Jones's Diary. As a kid, I loved Jo in Louisa May Alcott's Little Women primarily because she so reminded me of me, or at least the "me" I wanted to be.
3. Characters You'd Like to Know: Often a favorite character is one you'd really like to know in real life. You can picture trading stories over a glass of wine or cup of tea or just having a great conversation. As I got to know my own characters in Up the Hill to Home, I found myself wanting to spend time with Charley Beck, a funny, easy-going guy who takes life as it comes. It's also not uncommon to fall a bit in love with that one character you find oh so appealing. Edward Rochester, the mysterious and distant hero of Charlotte Bronte's Jane Eyre, was the first character I ever remember swooning over.
4. Characters who are larger than life, perfect, or ideal: Many readers want to spend time with a character who's bigger or better than the people they actually know; after all, as a friend said, "I spend all my time with real people. I want to spend my reading time with someone better!" Often, these are the characters we find in genre fiction like romance (Rhett Butler), spy (James Bond, Jason Bourne), and sci-fi/fantasy/dystopian lit (pick one). A "perfect" character can have flaws—typically exactly the right flaws that make him even more attractive.
5. Characters who are completely believable: This is the trait I'm most often drawn to in books that I truly love, and the one I strive to achieve when I write. I want to spend time with fully realized, three-dimensional people. Perhaps my favorite character of all time—and I know I'm not alone—is Atticus Finch, hero of Harper Lee's timeless To Kill a Mockingbird. For me, Finch hits all five of these traits: we're viscerally drawn to him, he's someone we'd like to know, he's the best version of the person we'd all like to be, he is heroic in the best sense of an everyday person who stands up and does the unpopular right thing, and yet he is still completely believable.
Who are your all-time favorite characters?
Tags: characters, historical fiction, literary fiction, writing advice, writing style