–SPOILER ALERT–SPOILER ALERT–SPOILER ALERT–
You probably don't want to read entries on this page until you've read the book.
Yes, we highly recommend you read the book first.
Go ahead. We'll wait here.
Ready?
Fact or Fiction?
As you may be aware, Up the Hill to Home is a fictionalized account of a real family that lived much as it is described in the book. Many people, and most especially those who are related to the family, have asked me to clarify which elements of the book are true, which are essentially true, and which are complete fabrications. I'll be adding to this over time, but feel free to email me with the questions you absolutely need answered.
Letters and Diaries
All the letters and diary entries used in the book are real. I tried very hard to use them with the lightest possible editing, but with an eye to smoothing the way for the modern reader. I did end up using excerpts in many cases rather than entire letters or diary entries, and–as my beta readers know so well–I eliminated many, many entries.
Hands down, the inclusion of the letters and diaries is the one item that readers and reviewers are divided over in their assessment of the book. Some readers really enjoyed them and felt they added insight into the characters, while others felt that they got in the way of the story's progression. For their historical interest, I have posted in Artifacts all of Lillie's diary and virtually all of Emma's; she had a number of poems that she had copied out into her diary that I did not transcribe. One day I might get around to posting the full collection of Christian Miller's letters.
Lillie's High School Career
It's true that Lillie went to Holy Cross as a member of the class of 1914, and that the Mother Superior at one time was Mother Mary Angelica. Beyond that, virtually every other element of the chapters "History Lessons" and "Equilibrium" is fictional. No artifacts exist from Lillie's school career beyond two medals she received and a photo of the theater group, nor have I ever heard any  stories about her time there. Professor Dettweiller started out as a convenient device for bringing Christian's letters into the story, but he became a critical moral center for the book.
The only other real-life person represented in these two chapters is Eugenie Lieutand, who was a good friend of Lillie's and is mentioned often in her diary. I don't know whether Eugenie attended Holy Cross, though. One interesting item that reveals itself through Lillie's diary is that she and Eugenie started out as friends, then, because Eugenie was working, Lillie ended up spending more time with Eugenie's sister Claudia. Eventually, it was Claudia who served as Lillie's maid of honor.
Ferd's Desire for a House
There's no evidence that Ferd found and offered to purchase a specific house for Lillie, but the issue of having a house of their own was in fact a point of contention between Lillie and Ferd. Ferd quoted Lillie as having said, "I could never leave my parents; they're getting too old for me to leave them by themselves." As it turned out, of course, Emma's workload ended up being a much greater burden to bear with the growing family under her roof than if Lillie and Ferd had lived elsewhere with the children. There is also no evidence that Emma had a hand in convincing Lillie to stay.
Ferd and Emma's relationship was definitely chilly, and while I don't have a clear understanding of exactly how chilly it was, I once asked my mother what Ferd called Emma. Her answer summed things up: "He didn't call her anything."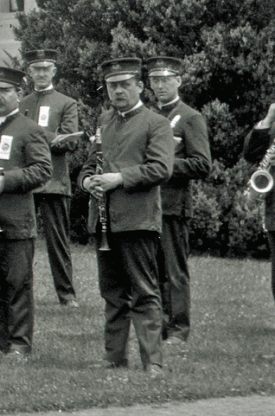 Gus Voith and the Soldiers Home Band
Gus Voith was a professional musician who played for many years with the Soldiers Home Band. Here he's holding a clarinet in the only picture I've found of the band, from 1914, which is in the Carnegie Library's collection in Washington, D.C. Family legend says that Margaret was scared by the saxophone he played during the family's annual visit on Christmas, so there's evidence he played the sax. And he definitely gave music lessons, but what other instruments he may have played, I don't know.
Besides a few salient facts, most of the chapter "Pigeons" is invention. The Young Voith family lived on Montford Avenue in Baltimore, then moved to K Street, and finally to Illinois Avenue. What Gus did for a living before that or what ordeal he may have had to endure to secure his government position are both lost to history.
By the way, Ferd did keep and race homing pigeons, and Jeanie was afraid of having the feathers fall on her.
Please tell me Charley Beck wasn't really a stalker.
Of the stories Emma told, none seem to have been about how she and Charley met, so their meeting and courtship are my invention. The timeline, however, was dictated by documented dates such as those on the building application and permit for the house, which are held in the Washingtoniana Collection of the Martin Luther King, Jr. Library in D.C. I do know that Emma was an accomplished horsewoman, she worked at the Central Post Office (now the Hotel Monaco), and she lived on Washington Street, which truly was an alley (more on that later). Charley worked at the Bureau of Engraving and Printing, and the brief history of his career that appears in the chapter "Endings and Beginnings" is accurate. As a matter of fact, you can see Charley's entry in the Congressional record here.
As an aside, I rewrote the backstory of Charley's career three different times based on different information I was given over the five years I was writing. I was under the mistaken belief that Charley worked for Treasury proper and that it was only Ferd who worked at Engraving. Then my Uncle Bernie handed me the entire set of Charley's personnel records from the day he started with the Bureau on February 5, 1883.
Charley Beck's Buddy Joe

My mother believes that Charley Beck lived in a boarding house in Georgetown, but there's no specific evidence to back that up. I'm sorry to say that Mrs. G is fictional. I would have said that Charley's best buddy Joe is also fictional because I pulled him out of the air, except it turns out, according to my Uncle Charley (Boy), Charley Beck really did have a co-worker named Joe who was a good friend of his. Fascinating coincidences (at least I think they are):
I came up with Joe as a character before I noticed/remembered that Emma's Cousin Lil had a beau named Joe in the early part of Emma's diary. The diary also says that Cousin Lil ends up marrying Mr. Blades, so that became a small plot point in the story.
In the chapter "Thank You for Another Fine Year", Charley and the boys spend an afternoon with Mr. Downs and Mr. DeMarr. I got those two surnames from a set of reminiscences  Charley Voith wrote down describing activities on his Granner's farm, but I made up (and became attached to) the first names, Cecil and Clyde. Then, at a family gathering after my book was already finished, my mother asked Charley about the farm, and he mentioned "Bill Downs and Joe DeMarr", and all I could say was, "Noooooo . . . " It turns out that Joe DeMarr was the same Joe who was Charley's friend from the Bureau of Engraving. Could he possibly actually be the Joe whom I imagined, the one who showed up in Emma's diary? How cool would that be?
Three Brothers from Baltimore
There were in fact three Italian brothers from Baltimore named Sondy, Yoc, and Jiggs–all with impressively wide noses–but they did not work in Washington, D.C., nor were they ever trash collector-handymen.  They were my father-in-law, James (Jiggs), and two of his brothers, Samuel (Sondy) and Nicholas (Yoc–short, of course, for Yacovissi). When I first heard that the brothers had those nicknames growing up, I knew I had to use them somehow.
Rhymes and Songs
Yes, Jeanie really did stand up at the dinner table and recite the "Listen, listen, the cat's pissin'" rhyme that Johnny had taught her; however, she did it several years later than is represented in the story.
My editor, Paula Fleming, did an amazing job of back-stopping my fact checking, and caught me in several anachronisms. One thing she puzzled over is that she wasn't able to double-check the accuracy of the "Sweet little baby" lullaby that Lillie sings to Tommy, since she could find no reference to it. That's because I made it up.
The "Gentiles Only" Sign at Beverly Beach
No fooling, that sign was there for a long time; cousins of mine remember it being at the entrance to the parking lot. Once again, though, I played around with timing, because it was a young Jeanie who secretly worried that the family would not be allowed into the beach.
The X-Ray machine at Ida's Uptown Department Store
Absolutely true. The kids played with it for hours.
Essentially True Anecdotes and Stories
Charley Beck accidentally sliced the tip of his finger off and tossed it into the furnace.
Charley Beck appeared at least once in a minstrel show in black face.
Emma Miller once took an unbroken, unsaddled colt out that ran away and left her to walk home.
Charley (Boy) Voith nearly shot Bernie with the .22 to show him how dangerous it was to play with guns; the only thing that saved them was that the gun misfired again. Bernie told me that story and Charley confirmed that it was true.
Lillie explained the facts of life to Eleanor on a walk home from church one day.