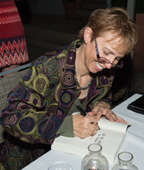 Thanks to everyone who came to the launch party for literary historical novel Up the Hill to Home, held at the Hotel Monaco in D.C.'s Penn Quarter on 29 March, just a day after the book's official release. Beautiful weather out in the courtyard set a perfect stage for celebrating the big milestone. The Hotel Monaco, with its stunning architecture by two of federal Washington's most esteemed architects, Robert Mills and Thomas U. Walter, was originally the General Post Office, which plays a pivotal role in the book. The courtyard was where the horses and wagons used for mail delivery were originally stabled. Now it just makes a great spot for a party.
Congratulations to Sam Gordon, the lucky winner of the drawing for a signed hardcover edition of Up the Hill to Home. Sam–who did not need to be present to win–was eligible for the drawing because he had signed up for Jenny's email list. Stay tuned for the start of another quarterly drawing; everyone on the mailing list is eligible to win, so sign up today!
Tags: family saga, historical fiction, literary fiction, Up The Hill to Home News, Washington D.C.