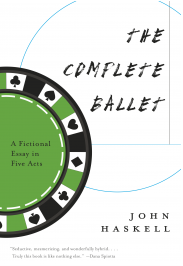 This book review originally appeared in The Washington Independent Review of Books on 8 October 2017.
Chances are good that you've never read a book quite like The Complete Ballet: A Fictional Essay in FIve Acts, a genre-bending mix of dance criticism and novel/fictional memoir that is unique in concept and execution. It is by turns engaging, illuminating, ridiculous, funny, heart-wrenching, and educational.
Each of the five acts of the subtitle is focused on a famous ballet, the themes of which author John Haskell ties into his running story. The ballets are La Sylphide, Giselle, La Bayadère, Swan Lake, and Petrushka. Not only does Haskell describe the stories the ballets relate, he discusses the history of their creation and famous productions, as well as the outsized personalities who brought them to life.
All the big names are illuminated here: Nureyev, Fonteyn, Baryshnikov, and Sergei Diaghilev, the latter of whom "brought ballet into the twentieth century with the Ballets Russes, which he founded in 1909. Pavlova danced for him and Coco Chanel designed for him and Balanchine choreographed for him." And he was paired for many years with the legendary dancer Vaslav Nijinsky.
Where did the author's own interest in ballet originate? Page one introduces the writing of Arnold Haskell, the renowned ballet critic and force behind the Royal Ballet School. Coincidence? If there's any relationship, it remains unacknowledged, though it would be interesting to know whether something about the shared last name prompted the idea for this intriguing project.
The unnamed first-person narrator, on the other hand, explains almost immediately that his interest in ballet began when his young daughter fell in love with The Nutcracker, and the two began reading ballet stories together.
Sometimes it's hard to remember that we're not hearing directly from the author. Repeated references to Arthur Haskell's writing convey the sense that John Haskell and his narrator are alter-egos:
"Unlike Haskell, I'm not interested in writing a guide to dance. I'm trying to find for myself a version of life that expresses itself like dancing, like the moving body thinking itself into existence."
In its barest outlines, Ballet's "story," set in the L.A. of the 1980s, relates, in bits and pieces, how our hero plunges deeply, desperately into debt to some truly dangerous characters, and where he goes from there. At the time, his life is shambles anyway, though he still seems hopeful enough to be seeking that version of himself and his life that might think or move or will itself into existence.
A case in point is the guy he thinks of as his best friend: Cosmo, a good-time schmoozer who owns a strip club. Though Cosmo is not a great role model, our hero keeps trying to act like him, hoping that it will stick and he'll become that guy, but no luck. "Although his self-sufficient relaxation was worthy of emulation, when I tried to sit like he sat…I didn't feel what sitting like him felt like."
At the same time, the object of his hazy affection is one of the club's dancers, Rachel, who also happens to be Cosmo's girlfriend. It's a classic ballet plot.
The narrator uses the stories of the ballets to echo his own, and to weave in details of his life, though it's the story from an opera, Rigoletto (inspired by a Victor Hugo play, just as Giselle was inspired by a Hugo poem), of a father's failed efforts to protect his beloved daughter, where he draws the closest parallel to his own life:
"And I don't know if I ever had a curse laid on me but I remember watching my daughter, on her blue scooter, scooting along on the sidewalk in front of me, and she was a cautious person but don't take your eyes off her for an instant, that's what I told my wife and she told me but all it took was that one time she didn't stop at the corner, and it was like a curse."
The entire narrative has that breathless, stream-of-consciousness quality to it, helped along by the fact that, though there are section breaks, there are no paragraph breaks. In relating his story, our hero approaches and then backs away from various subjects, then returns to them later from another oblique angle. You can almost see the corps de ballet advancing, retreating, advancing, like waves on the shore.
In virtually every ballet, someone dies tragically. Often it's the heroine, and very often she dies through the obtuse blundering or fickle-heartedness of her beloved. Sometimes both lovers die, but sometimes there's a happiness to it, a transformation that allows them finally to be together on some other plane. It may not be as satisfying to the audience as a corporeal happy ending, but finding a measure of fulfillment at the ragged end of tragedy is hardly the worst outcome.
When, in The Complete Ballet, our hero finally achieves his own transformation, paradoxically willing himself into existence by disappearing into a different character, it's more satisfaction than he or we might reasonably have hoped for.