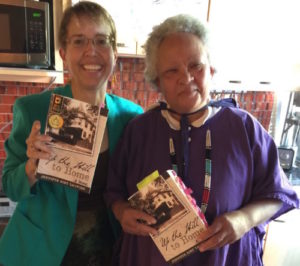 Recently, I was honored to join author and talk show host Carolivia Herron on her weekly book program, Epic City, on the brand new Takoma Park radio station WOWD, broadcasting worldwide on takomaradio.org. Carolivia and I met through Upshur Street Books when I read there in July, and–among many other things–she is very interested in the underappreciated Battle of Fort Stevens. We discussed that in detail during the hour-long program, and I read from the chapter in Up the Hill to Home that's all about the battle, "Jubal's March". We also talked about D.C. voting rights, the various characters in the book, and the surprising parallels between black and white family experiences in the then-segregated city.
You can listen to the discussion section of the program by visiting Epic City Broadcasts and scrolling down to the October 18th entry. The program is separated into four sections.
The music used in the program is not included here, but Carolivia introduced me to a haunting song written and sung by Bob Weir called "Lay My Lilly Down", which she played during the broadcast. You can listen to it here.