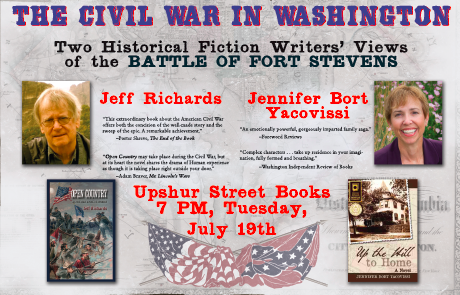 Join me and Jeff Richards at Upshur Street Books (827 Upshur Street, N.W.) on Tuesday, July 19 at 7:00 p.m., when we discuss our respective views on the Battle of Fort Stevens, in which Confederate General Jubal Early nearly marched into Washington, D.C.
Fort Stevens is located in what is now the Brightwood neighborhood of D.C., where most of my my novel Up the Hill to Home takes place, and the battle is described in the chapter "Jubal's March".  Jeff's Civil War novel Open Country visits the aftermath of the battle, which includes an appearance by "Uncle Walt" Whitman, who was a fixture at army hospitals throughout D.C. during the war as he visited wounded soldiers.
Jeff and I will take turns reading from our novels, and we'll discuss our approaches to writing about the war. We hope to see you there!