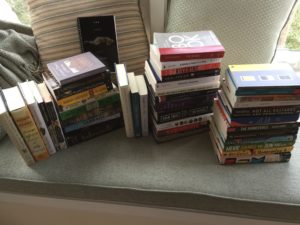 I know lots of readers make this a habit, and Goodreads actively encourages it, but this is the first time I've ever attempted to capture every book I've read during the year. And, sure, it would have been significantly easier if I'd simply noted each one as I read it, but scrambling to reconstitute the list on the last day of the year is so much more fun. Plus, I'm always amazed at the publications that put out their "Best of" lists way back in November or early December. What? I only just finished reading The Nix this morning!
Did I discover anything this year? I continue to be amazed at how many debut novelists show up as fully formed authors in thorough command of their voice. On the other hand, multi-published authors seem to suffer from an unwillingness by someone in authority to edit them. Also, I seem to read lots of relatively obscure books.
I've linked to any reviews I've written of the books listed, and I only noted the year if it came out before 2016.
My favorite book that should have gotten far more attention: They Were Like Family to Me by Helen Maryles Shankman (Scribner, 285 pp.) was originally titled In the Land of Armadillos. Changing the title could not have helped with marketing (though I guess my copy is now a collector's item) but, under any name, it's a set of beautifully interconnected short stories that left me a little shell-shocked and tingly, but in an entirely good way.
Other Stand-out Favorites:
Novels:
The Bones of Paradise, Jonis Agee, William Morrow, 432 pp.
The Children's Home, Charles Lambert, Scribner, 210 pp.
Karma and the Art of Butter Chicken, Monica Bhide, Bodes Well Publishing, 321 pp.
The Lost Time Accidents, John Wray, FSG, 512 pp.
The Risen: A Novel of Spartacus, David Anthony Durham, Doubleday, 496 pp.
The Vatican Princess: A Novel of Lucrezia Borgia, C.W. Gortner, Ballantine, 400 pp.
Debut Novels:
Amour Provence, Constance Leisure, Simon & Schuster, 257 pp.
The Girls, Emma Cline, Random House, 355 pp.
Grief is The Thing with Feathers, Max Porter, Graywolf Press, 114 pp.
The Guineveres, Sarah Domet, Flatiron Books, 352 pp.
Here Comes the Sun, Nicole Dennis-Benn, Liveright, 345 pp.
Homegoing, Yaa Gyasi, Knopf, 305 pp.
Hystopia, David Means, FSG, 320 pp.
The Mothers, Brit Bennett, Riverhead Books, 275 pp.
The Nix, Nathan Hill, Knopf, 620 pp.
Surface and Shadow, Sally Whitney, Pen-L Publishing, 303 pp.
The Translation of Love, Lynne Kutsukake, Scribner, 336 pp.
Short Story Collections:
Translations:
Non-Fiction/Bio/Memoir:
Books from previous years that I finally read:
Andersonville, MacKinlay Kantor, The World Publishing Company, 1955, 767 pp.
The Color of Water, James McBride, Riverhead Books, 2006, 295 pp.
Crabtown, USA, Rafael Alvarez, Perpetual Motion Machine Publishing, 2015, 441 pp.
From Watergate to Hugo Chavez: An Ex-Diplomat's Memoirs, Gonzalo T. Palacios, AuthorHouse, 2009, 132 pp.
The Good Lord Bird, James McBride, Riverhead Books, 2014, 480 pp.
The Lacuna, Barbara Kingsolver, Harper Perennial, 2010, 507 pp.
Old Souls, Tom Shroder, Simon & Schuster, 1999, 253 pp
A Spool of Blue Thread, Anne Tyler, Knopf, 2015, 358 pp.
The Tide King, Jen Michalski, Black Lawrence Press, 2013, 361 pp.
Audiobook (+ print):
The Deluge: The Great War, America and the Remaking of the Global Order, Adam Tooze, Viking, 2014, 644 pp. The sweeping breadth and fully coherent depth of this book is staggering, and I found listening to the audiobook invaluable to my overall retention and comprehension of the material that Professor Tooze weaves together seamlessly. At the same time, I loved having the hardcover, which I used to re-read passages and chapters I had heard on DVD.
Hands-down biggest disappointment:
Barkskins, Annie Proulx, Scribner, 736 pp. In addition to my review of this book, I wrote a blog entry about it called "When Your Favorite Author Breaks Your Heart".
Wishing everyone a safe, happy, and reading-filled 2017!
Tags: book review, Historical Novel Society, Late Last Night Books, WIRoB