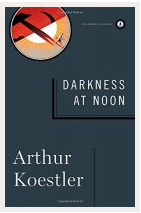 The following three reviews first appeared in the May 2015 online and print editions of the Historical Novels Review, published by the Historical Novel Society.
DARKNESS AT NOON, Arthur Koestler (translated by Daphne Hardy), Scribner, 2015, 272 pp
This chilling, fictionalized account of one man's victimization in the Moscow show trials of the 1930s is Scriber's re-release of Koestler's classic 1941 novel depicting the horrors of living under a totalitarian regime. While it's historical fiction now, it was thoroughly contemporary when he wrote it in Paris in 1940; Daphne Hardy translated it from German to English as he wrote, and was able to smuggle the manuscript out of France mere days before Paris fell to the Germans in WWII.
The novel introduces us to Nicholas Salmanovitch Rubashov, a loyal, revered, and leading member of the Communist Party since the 1917 Revolution, just as he is jailed by his own compatriots as a traitor. The novel is historically accurate in its description of how the Party began to devour its own as Stalin (here referred to as "No. 1"), who was never as popular or competent as Lenin ("the old man"), sought to shore up and protect his power base. The primary tenets of the Party—that the Party is never wrong, the individual is meaningless, the end justifies any means, and that wrong ideas are crimes punishable by death—all support the systematic purges of the old guard. Rubashov is hardly innocent of following the logic of this warped philosophy to its bloody ends himself, but now finds himself its next victim. As he tells his tormentors: "I plead guilty to having placed the idea of man above the idea of mankind."
It's a strong story told with compelling, horrifying realism. This is a timely release from Scribner, and I recommend it as an apt reminder of what life was like for millions under rapacious, repressive Soviet Communist rule, where mercy was considered poison.
****
WEST POINT 1915: EISENHOWER, BRADLEY, AND THE CLASS THE STARS FELL ON, Michael E. Haskew, Zenith Press, 2014, 208 pp
This book marks the hundredth anniversary of the 1915 graduating class of West Point, the "class the stars fell on", so named because 59 of its 164 graduates attained the rank of brigadier general or higher, the most of any class in history. It seems clear that what fell on these men was World War II, since by that time they were deep in their army careers with long years of training and experience, which ended up serving the country exceedingly well. Omar Bradley suggests that his not going to France during WWI, far from ending his (or Eisenhower's) career as he had feared, helped him to approach the demands of a mobile tank- and air-based war with an open mind, unsaddled with concepts of trench warfare. The Americans also had time to watch and learn from the British and Germans. Excellent (George C. Marshall) and cautionary (Douglas MacArthur) role models may have helped; Eisenhower's affability and coalition building were undeniably crucial. Haskew's research is exceptional; his skipping from one man's story to another with only a paragraph break is a bit hard to track, but he's done a good job of giving each man his due.
****
FOUR FACES OF TRUTH, Harriette C. Rinaldi, Fireship Press, 2014, 191 pp
Four fictional narrators take turns recounting the horrors wrought by the Khmer Rouge in Four Faces of Truth, Harriette Rinaldi's noble effort to put the meteoric rise of this bloody regime into historical context. The title refers both to the different perspectives provided by the narrators—a Buddhist monk, an original party member, a traditional Khmer healer, and a Canadian archeologist—and to the ancient stone towers of Angkor Thom, topped with faces gazing out to the four points of the compass. Rinaldi is a master of her subject, having spent three crucial years (1972-1975) of her 27 years with the CIA in Cambodia. Her stated purpose in writing this account as a novel is to make this largely forgotten or ignored history more accessible. Unfortunately, her first-person narrators are burdened with having to convey a huge amount of historically accurate information about real people and real events, and the result is less satisfying than if Rinaldi had chosen to use, for example, literary non-fiction to tell this story. In particular, the dialog is wooden and used primarily to make observations about culture, history, or events. None of her characters are fully realized people in their own right, which is ironic since the driving horror of the Khmer Rouge was how avidly it sought to dehumanize its subjects, stripping them of all vestiges of individuality. The result here is that the reader is held at arm's length from what ought to be a much more emotionally moving story. It's a story worth telling, though; as the last narrator observes, the current Cambodian government is as corrupt as every one before it, still filled with Khmer Rouge henchmen, and bent on a campaign of actively forgetting the past.
Tags: book review, historical fiction, literary fiction